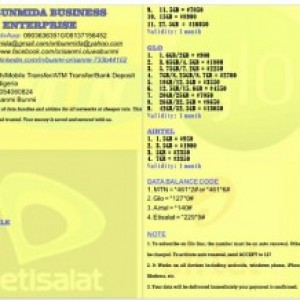 Full Name
Bunmi, Oluwadare, Orisanmi
I am good at engineering and farming. I am available to involve myself in any meaningful, profitable, potential, and viable work or business.
Career Status
I run or am involved with multiple small to medium business operations
Business Goals
New business opportunities
Additional business goal information
My needs: Capital Land I am planning to be multitasking in engineering and farming (intercropping).
Sector Of Interest
Agriculture

Farming

Agro-processing

Consulting

E-commerce

Oil and Gas

Import/export

Manufacturing

Renewable energy

Transportation

Waste & recycling
Skills and Certifications
Microsoft Word
Excel
Power point
SPSS
Coreldraw
Photoshop
matlab
Autocad
solidwork
engineering designs
Crop production
and livestock farming
Job History
Mechanical Engineer Graduate, Saint Paul's Anglican High School, Okitipupa, Ondo State (Nigeria, Ondo) | 07 2017 - 06 2018
Education
B.Eng, Federal University of Agriculture, Abeokuta, Ogun State (Nigeria, Ogun) | 10 2012 - 02 2017
What others had to say about Bunmi, Oluwadare, Orisanmi