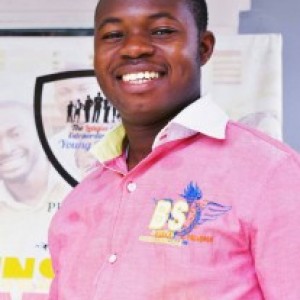 Full Name
Esimaje, Michael, Onoseme
Esimaje Michael Onoseme is a digital Business Manager, IRATA Rope Access level 1 Technician, Science Educator and a Google level "6" Local guide on internet governance, he's also a regional Cordinator for Commonwealth Youth Peace ambassadors network (CYPAN)(2016). He's the founder of Smart Gate Consult a Digital solution startup and also a youth for Technology Ambassador(July 2017) and local Cordinator for Africa Students for liberty (ASFL)(June 2017). Earlier in 2015, he was contracted as an academic consultant by the U.S based NGO (Africare) for Shell's youth scholar-athlete development program. He's also a dash ambassador for crypto advocacy. His recent activities include community development research for the commonwealth youth peace network (CYPAN), Social Activism and representing Nigeria as a leadership Assessor for the Yali west Africa cohort (6) selection process. He has extensively over 5years of experience in training cum educational related activities. He's actively involved in offering mentorship on STEM, cryptocurrency, Leadership, Training Education, Agribusiness and peace building.
Career Status
I am a business owner or a director of a business
Business Goals
New business partners – supplying partners

New sales and prospects – revenues

Advice and consulting services

The purchase/hire of new services

We're hiring

New business opportunities
Additional business goal information
Sector Of Interest
Agriculture

Consulting

E-commerce

Finance services & financial technology (fintech)

Oil and Gas

Import/export

Infrastructure

IT & IT services, Programming, Web design and computers

Real estate development, maintenance related services

Renewable energy

Telecoms
Skills and Certifications
Accounting, Project Management, Procurement, Credit Management and Management
(3) Result Oriented Aspiration.
Job History
Business Development Manager/CTO, Africa Green Gate (Nigeria, Delta) | 05 2018 - Present
Education
Master degree, World Quant University (Nigeria, Delta) | 06 2018 - Present
Bachelor's degree, Delta state university (Nigeria, Delta) | 01 2010 - 06 2014
What others had to say about Esimaje, Michael, Onoseme
Companies associated
Share User Profile