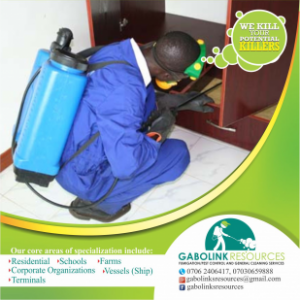 Full Name
Gabriel Olaogun
I am Olaogun Gabriel, a Nigerian resident in Lagos. I am a Bachelor Degree holder in Political Science at Obafemi Awolowo University, Ile-Ife, Osun State, Nigeria (2010). A Diploma in Purchasing and Supply Management of Nigeria (2017). I am happily married. I am an entrepreneur in the capacity of GABOLINKS RESOURCES which offers Fumigation / Pest Control and General Cleaning Services to residential, Schools, Corporate Organizations, Farms, Vessels, Air Cargo space etc. There is also interest in Agriculture specifically, in Crop and Snail Farming.
Career Status
I am a business owner or a director of a business
Business Goals
New contacts

The purchase of new equipment

New business opportunities
Additional business goal information
We need a conducive space (office) as to enable carry out our business activities successfully. This is because there is an intention to venture into the production of Insecticide-chemical for domestic uses. We need industrial machines such as Fog Machine, Cas Machine, Steam Machine, etc. for fumigation and pest control services. And for the general cleaning services, we need machines such as Scrubbing Machine, Box Sweeper, Polishing Machine, Vacuum Cleaner Machine, Vapor Cleaning Machine, etc We need at least a plot of land for the Snail Farming and construction of modern Snail Pen. The basic goal here is to create employment opportunities for our teaming youths in diverse areas. Hence, contributing our quota to the economy.
Skills and Certifications
Job History
Director of Operation, GABOLINKS RESOURCES 113, Igi Olugbin Street, Pedro Road, Somolu, Lagos, Nigeria. | 02 2015 - Present
Education
What others had to say about Gabriel Olaogun
Greetings, My name is rose,I would like to tell You or give you a proposal if you are interested then we shall proceed am not always online here ok,but first please try to contact me soon at my private email address you look at my email well before you send it ok here is my email (r o s e. r a y 3 4 AT y a hoo. co .u k) I shall tell You more when i receive Your mail as am not always online here, Thanks and remain blessed, Miss rose,
Greetings, My name is rose,I would like to tell You or give you a proposal if you are interested then we shall proceed am not always online here ok,but first please try to contact me soon at my private email address you look at my email well before you send it ok here is my email ( AT y a k) I shall tell You more when i receive Your mail as am not always online here, Thanks and remain blessed, Miss rose,
Greetings, My name is rose,I would like to tell You or give you a proposal if you are interested then we shall proceed am not always online here ok,but first please try to contact me soon at my private email address you look at my email well before you send it ok here is my email (r o s a y 3 4 @ y a h o k) I shall tell You more when i receive Your mail as am not always online here, Thanks and remain blessed, Miss rose,
Show More
Companies associated
Share User Profile