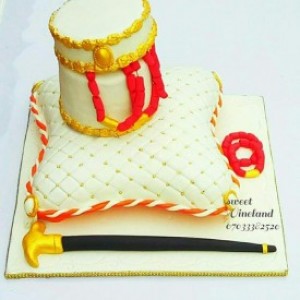 Full Name
Happy, Michael, Eriyo
Sweet vineland is an open academy and shops for cakes, pastry, finger foods and cocktails from scratch. Also specialized in buttercream, sugarcraft, sugar flowers, custom piping and elegant cake designs. All cakes, fillings and frostings are made in-house from scratch using quality ingredients. Each cake is executed with the utmost detail and to each client's specifications. We fills, frosts, and decorates all of the cakes and prides ourselves on our attention to detail and the ability to take a client's vision and turn it into a reality. All wedding orders must be placed at least 4/6 weeks in advance. While birthday and other celebration cakes must be orders 5/7 days in advance. It's never too early to reach out to us. A non-refundable deposit is required to secure a date and is based off the total price of the order. **If by some chance a cake has to be cancelled or postponed the deposit will go towards the new date/future order** The shop is open for Holidays and special occasions! We are available by appointment throughout the week for cake pickups and consultations.   Head on over to our Facebook page to see weekly updates, photos, menus & more! Hope to see you soon!
Career Status
I am a business owner or a director of a business
Business Goals
New business opportunities
Additional business goal information
To become more efficient in business operation as a way to increase productivity and also increase wedding cake sales by 5 percent within the next nine months.
Skills and Certifications
Job History
CEO, Sweet vineland cakes 'n' events (Nigeria, Edo) | 05 2010 - Present
Education
What others had to say about Happy, Michael, Eriyo
Companies associated
Share User Profile