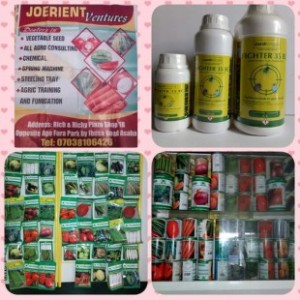 Full Name
Joerient Agro seeds and chemical Venture Chi
Joerient Agro seeds and chemical Venture is mainly into vegetable seeds for Nigeria Farmer. We deal with Technisem seeds. Free feel to contact us 07038106426 or Email joerient.venture@yahoo.com, facebook fb.me/joerient
Career Status
I am a business owner or a director of a business
Business Goals
Advice and consulting services
Additional business goal information
Joerient is a Agro allied venture for Nigeria Farmer. Our aim/goals is to provide quality vegetable seeds and Agricultural produce.
Sector Of Interest
Agriculture

Farming

Consulting
Skills and Certifications
Ability to describe technical information in easy-to-understand terms
Job History
Education
What others had to say about Joerient Agro seeds and chemical Venture Chi
Vegetables and fruit seeds from Joerient Agro seeds and chemical venture are of the high quality and affordable price.
It's a Good, fast and reliable company. Where goods are easily delivered in good quality. It's 85% effective.
Hi, I am a business director doing Waste management and piggery, using our food waste to rear pigs, we are interested in expanding our business by going into farming of vegetables, crops that can be harvested under 3months. So I will be well pleased to get help from you on seedlings and mentorship. Thanks.
Show More
Products
Share User Profile