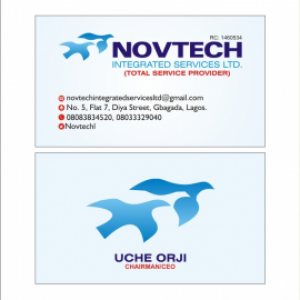 Full Name
Uche Orji
Novtech Integrated Services LTD is an OIL & GAS ACQUISITIONS company, Procurement's services, Oil services operation and Project/Contract Financing Company duly registered in Nigeria.
Career Status
I am a business owner or a director of a business
Business Goals
Advice and consulting services

The purchase/hire of new services

New business partners – supplying partners

New business partners – wholesale buyers
Additional business goal information
Novtech Integrated Services LTD, is an Oil & Gas company, (Crude Oil Acquisitions ) Total service provide to International Oil & Gas companies operations in Nigeria and Overseas. Tobacco distribution.
Sector Of Interest
Agriculture

Construction & related services

Oil and Gas

Import/export

Other
Skills and Certifications
Job History
Education
What others had to say about Uche Orji
Greetings, My name is rose,I would like to tell You or give you a proposal if you are interested then we shall proceed am not always online here ok,but first please try to contact me soon at my private email address you look at my email well before you send it ok here is my email (r o s e. r a y 3 4 AT y a hoo. co .u k) I shall tell You more when i receive Your mail as am not always online here, Thanks and remain blessed, Miss rose,
Companies associated
Share User Profile